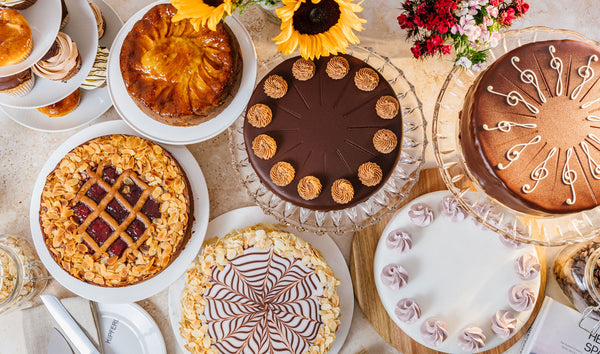 Austrian Cakes
Whatever the occasion, whether a birthday celebration, an anniversary or if you just have a craving for an authentic Austrian Cake, at Kipferl we have the perfect cake. 
Delicious Austrian Cakes
All our cakes including the Sachertorte, the popular Austrian chocolate cake, our Chestnut cake and many others are made using only the finest ingredients. Your tastebuds won't be disappointed. If you are looking for a Sachertorte cake to buy, then Kipferl is the place to go!
With a wide range of cakes and pastries there is something for everyone. And that includes the traditional Austrian Apfelstrudel - delicious filo pastry with apple, raisin, and almond filling. But you must try the famous Sachertorte cake as well.
We provide cake delivery all over London, satisfying your sweet cravings and bringing the delicacies of Austria to your home. But don't worry if you live outside of the Capital - we deliver to any postcode in the UK too.
Personalise our famous Austrian chocolate cake 
Personalise our famous Austrian chocolate cake with up to 30 characters. Whether a classic "Happy Birthday" or something a more personal, we are here to help you create those unique, memorable, and smile-inducing moments.
Sachertorte cake delivery in London
The Queen of Austrian chocolate cakes, well-known and loved worldwide, the Sachertorte cake brings you a taste of Central Europe without having to travel there.
Order your Sachertorte cake online or chose a date for our cake delivery in London (or anywhere in the UK) to experience the layers of apricot jam and the crunchy chocolate icing. We promise it won't be your last order. It's just too tasty.
Our cake delivery in London is available Tuesday - Friday. Orders placed before 10:00 am are usually shipped the next day.
Handmade Austrian cakes - order cake online to your doorstep
There's nothing more delicious than an Austrian Apple Cake, a Sachertorte or a Chestnut cake delivered to your home. What a way to start a weekend! Or maybe a special treat for the office on a Friday afternoon?
All our cakes are handmade in London and available for delivery to all UK postcodes (except Topfentorte and Esterhazy). So, what are you waiting for? Order your cake online with one click & try the Austrian way of cake for yourself. You won't be disappointed.
All UK-based orders are available for delivery Tuesday - Friday. Any orders placed before 10:00 am will be sent out the next day (some cakes require 2 days notice). Find out more about our delivery here.
Do you have any questions? Maybe you're wondering how long Austrian cakes last? Or maybe you want to see the ingredients? Check out the FAQ section for more info.