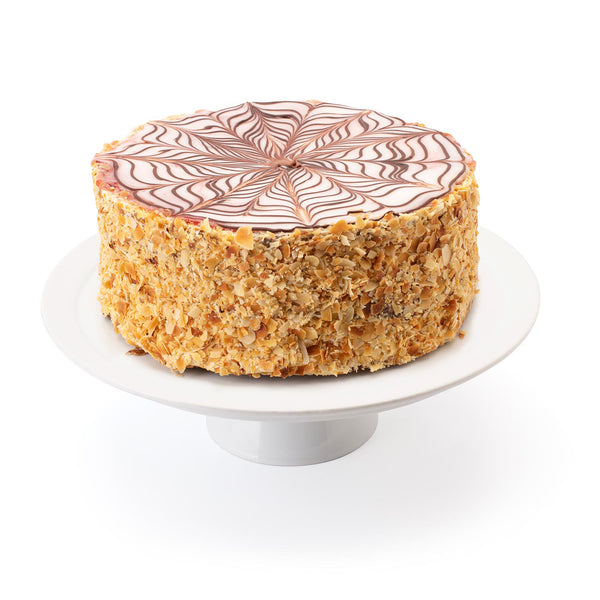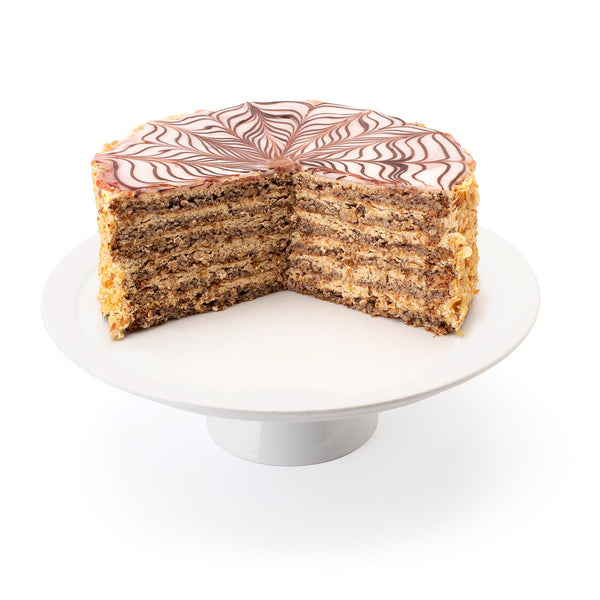 A CREAMY DREAM FROM BUDAPEST
Invented by Budapest confectioners in the late 19th century and named after the famous noble family Esterhazy, this creamy and nutty delight soon became one of the most famous cakes in the lands of the Austro-Hungarian monarchy.
Seven layers of crunchy dough filled with moist and nutty buttercream, making it the most smooth and rich cake in our range of authentic, handmade cakes.
Our Esterhazy cake is also gluten free!
24cm (12 portions)
THIS PRODUCT CAN ONLY BE ORDERED ON THE WEBSITE FOR DELIVERY TO LONDON POSTCODES. IF YOU WANT TO ORDER FROM OUTSIDE OF LONDON PLEASE CONTACT US ON SHOP(AT)KIPFERL.CO.UK
Click for delivery information.
Allergens: dairy, eggs, nuts, soy. For more information on allergens click here to see our allergens info page.
Ingredients: Eggs, ground hazelnut, caster sugar, milk, butter, almonds

Our cakes are made fresh with no preservatives. For better tasting cakes, please keep refrigerated and consume within 4 days of receiving delivery.