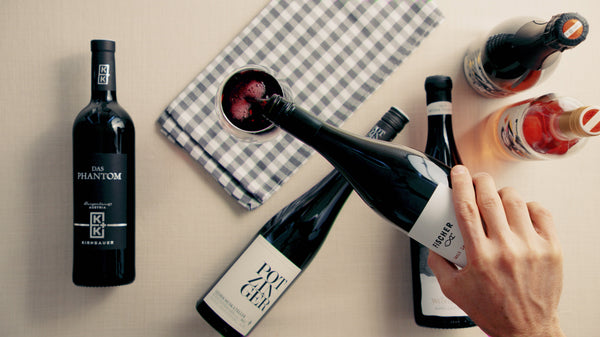 Austrian Wines
Our Austrian wines come from small, independent winemakers. We stock all the typical indigenous Austrian grapes like Grüner Veltliner, Zweigelt and Blaufränkisch, as well as popular wines like Sauvignon Blanc, Pinot Gris and Chardonnay. Most of them are organic or biodynamic, and they are available only at Kipferl for UK distribution. 
Explore our unique selection of Austrian wines in the UK
At Kipferl UK, we take pride in offering a unique range of Austrian wines to our customers in the UK. Whether you're already enthusiastic about Austrian wines or you want to try something new, our hand-picked selection of Austrian wines is sure to impress.
Why choose Austrian wines?
Austrian wines are renowned for their exceptional quality, distinct flavors, and rich cultural heritage. Austrian winemakers have mastered the art of producing wines that capture the essence of their unique alpine terroir. The combination of sunny days, cool nights, and the special soils, such as granite, schist, and loess, contributes to the production of mineral-rich, acidic wines with a light taste and the perfect amount of sweetness. Austria offers a diverse selection of wines, ranging from crisp and refreshing Grüner Veltliners to elegant Rieslings and velvety red Blaufränkisch.Explore a Curated Assortment of Austrian Wines Online.
At Kipferl UK, we have carefully curated a collection of Austrian wines to bring you the finest selection available. Our portfolio includes wines from small Austrian wineries, from every wine region in Austria: Lower Austria, Styria and Burgenland. Each is handpicked for their exceptional quality and distinctive characteristics.
Browse our online shop to discover:
Crisp and refreshing Grüner Veltliners with vibrant citrus notes. Elegant and expressive Rieslings with a harmonious balance of acidity and fruitiness.
Full-bodied and velvety red wines like Blaufränkischer or Zweigelt showcasing the rich flavors of Austrian grape varietals.
Sparkling and natural wines that add a touch of celebration to any moment.