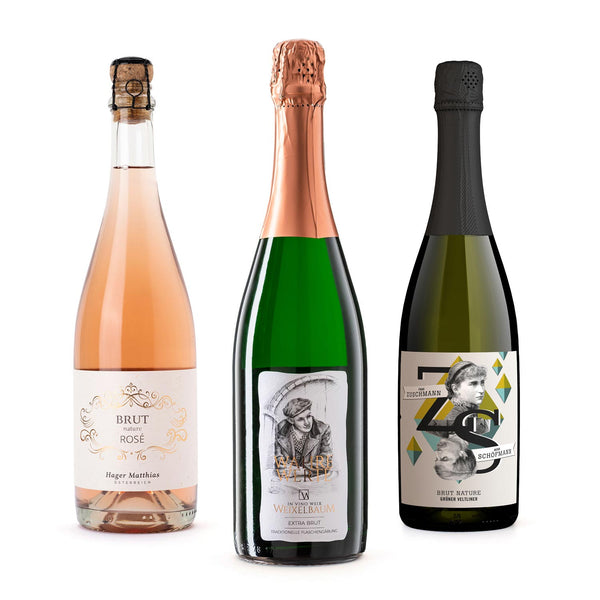 Austrian Bubbles Box - 3 Austrian Sekts
A selection of some of the finest Austrian Sparkling Wines: all made using the traditional "Metode Champenoise", these bubbly whites will be the perfect companion for any occasion. 
Zweigelt Rose Brut Nature, Matthias Hager, Kamptal: Rose sparkling wine based on Zweigelt and made in the "Methode Champenoise". Natural fermentation and aged for 18 months on the lees, bright straw- and raspberries, dry and ending with a delicious, creamy finish. Goes well with light dishes and desserts. Biodynamic. 
Sekt Weissburgunder Extrabrut: Classic dry Austrian sparkling wine based on Weissburgunder / Pinot Blanc, extra dry, ripe apple and citrus fruit, smooth long finish.
Sekt Grüner Veltliner Grosse Reserve, Zuschmann-Schöfmann: Only the juice from the first press of hand selected and whole bunch pressed grapes goes into this traditional method sparkling wine. Grosse Reserve is the highest appellation for Austrian sparkling wines, aged for a minimum of 30 months on the lees. Brilliant yellow and golden, fine bubbles, ripe apple and subtle citrus fruit. Very dry (brut nature), playful and multi layered. Elegant and long finish. Our premium sparkling wine.