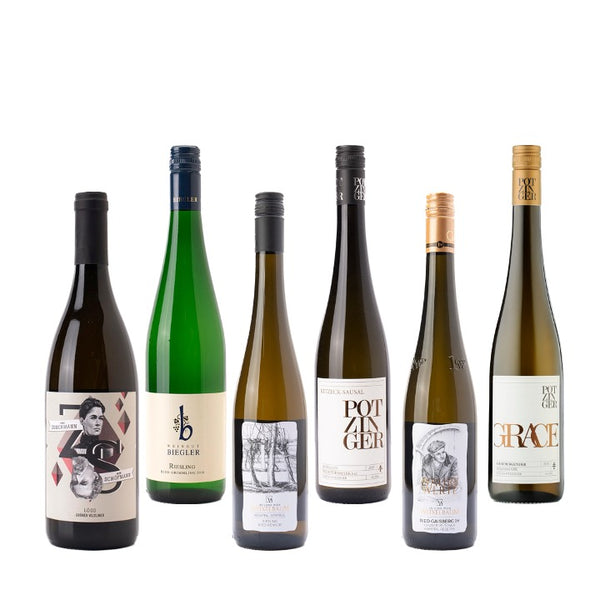 Austrian White Wine Collection - Box of 6
A selection of the finest Austrian White Wines, from the famous Grüner Veltliner to unique rarities like the Rotgipfler. 

Grüner Veltliner Löss, Zuschmann Schöfmann:
Organic, single vineyard Grüner Veltliner, notes of ripe exotic fruit, caramel, intense and multi-layered. Whole bunch pressed and naturally fermented.
Riesling Renner, Weixelbaum:

Single vineyard Riesling from the Renner hillside, fresh apricot and peach, tropical fruit. Floral, elegant and long in the finish. Complex, off-dry and suitable for further ageing – a stunning wine for Riesling lovers!
Ideal with duck and goose. 
Rotgipfler Brindlbach, Biegler:
A natural cross of the aromatic Traminer and Roter Veltliner this extremely rare autochton (indigenious) grape variety is typical for white wine village Gumpoldskirchen in the Thermenregion south of Vienna. Lots of tropical fruit, banana and mango, off dry with a lovely balance and an elegant and complex finish. Perfect match for Ceviche and Asian dishes.

Morillon, Potzinger:
Only in Styria Chardonnay goes under the name of Morillon. Produced from over 30 year old vines, Stefan Potzinger's Morillon is mineral and fruity with herbal notes, apple and orange zest. Stefan is a busy man combining his work in the winery with being head of the regional wine makers' association. 
Perfect match with all seafood.

Grauburgunder - Pinot Gris "Grace", Potzinger:
Floral, citrus and spice, hazelnut and mineral notes on the palate, Rich, creamy and full bodied. Long, complex finish. Grauburgunder / Pinot Gris, also called Ruländer in Styria, is a versatile and fine grape variety and is enjoying a well deserved comeback!   
Goes well with Asian dishes, fish and roast chicken. 

Grüner Veltliner Ried Gaisberg, Weixelbaum: 
Single vineyard Grüner Veltliner, powerful and mineral, orange zest, peach and apricot, balanced and complex, with a long ageing potential.  The most powerful GV we ever had at Kipferl. 4.0 rating on vivino.