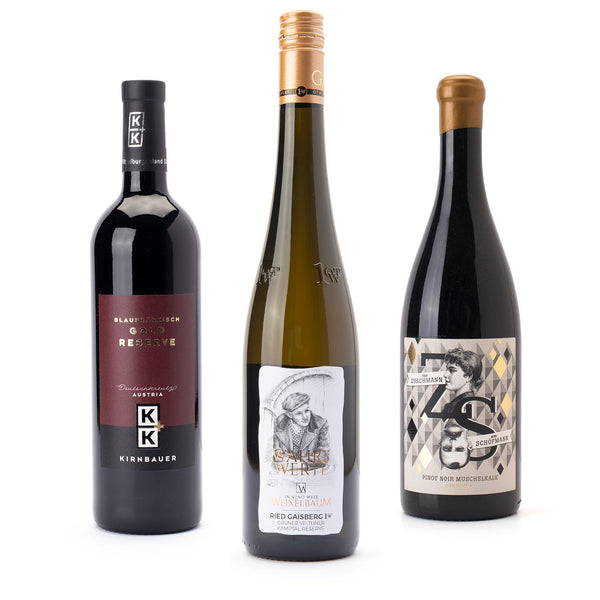 AUSTRIA'S FINEST "Die Drei"
Three of the most spectacular wines ever produced in Austria. Like all our wines they are carefully selected by our founder from small, organic wineries and only available in the UK at Kipferl. 

Blaufränkisch Gold Reserve, Kirnbauer: The most popular indigenous Austrian grape. Ruby red with a fine aroma of sweet Blackberry and Redcurrant, wonderful mineral note with nicely integrated tannins and a very harmonious finish. Ripened for 16 months in elegant Troncais-Barriques. 4.0 rating on vivino.
Pinot Noir Muschelkalk, Zuschmann&Schöfmann: Organic Austrian Wine from the famous couple Z&S. Specially hand selected organic Pinot Noir grapes, aged fro 2 years in new and old Austrian oak. Ripe red berries, elegant and spicy, soft tannins and with a long, harmonic finish. Awarded 94 points in renowed Austrian wine publication À la Carte.
Grüner Veltliner Ried Gaisberg, Weixelbaum: Single vineyard Grüner Veltliner, powerful and mineral, orange zest, peach and apricot, balanced and complex, with a long ageing potential.  The most powerful GV we ever had at Kipferl. 4.0 rating on vivino.