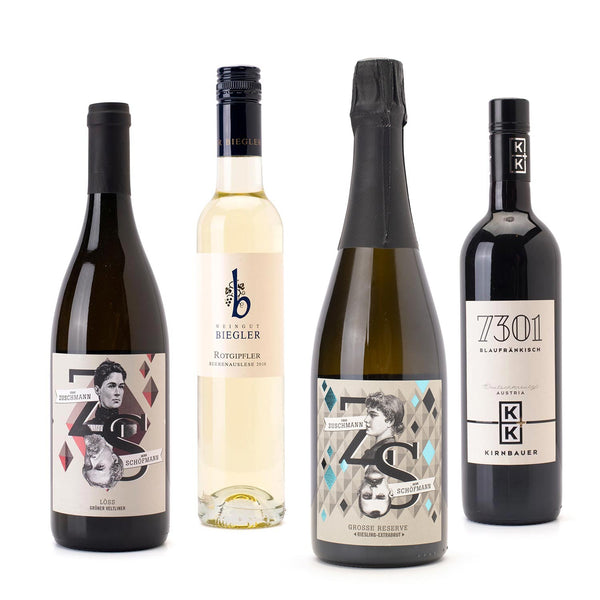 Wine Box 📦🍷  Dinner 
Perfect for a gift to anyone or to drink with your loved ones.
Our wine box contains the following 4 wines: Grüner Veltliner Löss,Rotgipfler Beerenauslese Biegler,Riesling Sekt Grosse Reserve 2016 Extrabrut,Blaufränkisch 7301
Grüner Veltliner Löss, Zuschmann Schöfmann, Austrian White Wine: Organic, single vineyard Grüner Veltliner, notes of ripe exotic fruit, caramel, intense and multi-layered. Whole bunch pressed and naturally fermented.
Rotgipfler Beerenauslese Biegler Austrian Dessert Wine: Austrian dessert wine made of the rare grape variety Rotgipfler, unique to the Thermenregion south of Vienna. Think of honey, mango and sultanas, refreshing acidity and pronounced fruit. Medium body and lingering finish.
Riesling Sekt Grosse Reserve 2016 Extrabrut, Zuschmann Schöfmann, Austrian Sparkling Wine: Only the first pressing of handpicked Riesling grapes are selected for this extra dry sparkling wine. Aged 30 months on the lees for a rich and round sensation and with only 5gr/l residual sugar. Brilliant lemon in colour, fine bubbles, fruity notes of apple and lemon zest. Mineral and creamy, elegant and long.
Blaufränkisch 7301, Kirnbauer, Austrian Red Wine: Blaufränkisch is a rare, Central European grape with typical aromas of black cherries, blackberry and cassis. 7301 combines beautifully aromas and flavours of dried herbs, pepper, nougat and forest fruit. Aged in partly large oak and partly old barriques added softness and roundness to the long finish.