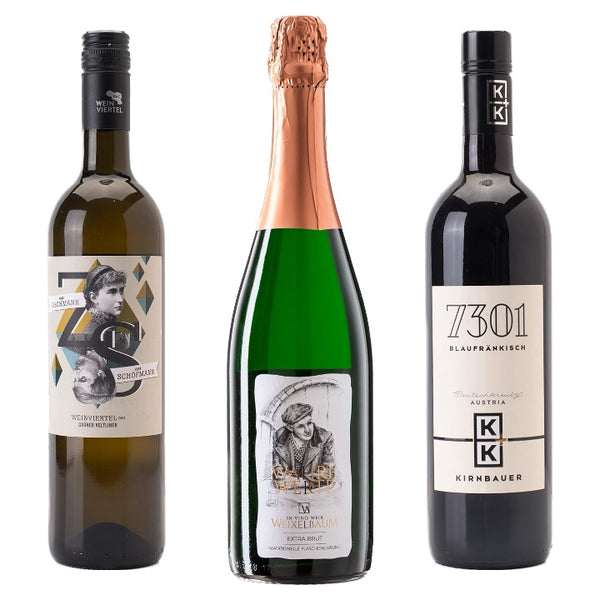 Welcome to Austria – Christmas Wine box
An introduction to Austrian Wine, with three of the most typical wines that Austria has on offer – a wonderful gift for every wine lover!


Grüner Veltliner DAC, Zuschmann Schöfmann: Organic Grüner Veltliner from the aptly named Weinviertel (Wine District), North of Vienna. Typical fresh peppery note, citrus fruit and ripe apple. Our exceptional house white, dry, refreshing and versatile, a good match for most dishes. Grüner Veltliner is Austria's signature and unique white grape variety. It can have many nuances, from apple to mineral, but always with a distinctive peppery note. It is so popular it alone accounts for a third of Austria's vineyards
Blaufränkisch 7301, Kirnbauer: The rare Blaufränkisch grape thrives in Mittelburgenland – black currant, red cherry and blackberry on the nose, thyme and clove on the palate. 16 months ageing in barrique softens the tannins and contributes to the harmonic finish. The number 7301 refers to the postcode of the Kirnbauer's. One of our wine buyer's favourite reds! Enjoy with venison or a good steak.
Sekt Weissburgunder Extrabrut, Weixelbaum: Classic dry Austrian sparkling wine based on Weissburgunder / Pinot Blanc, extra dry, ripe apple and citrus fruit, smooth long finish.