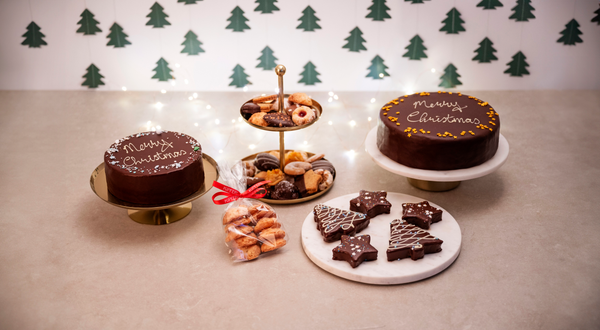 Christmas
Austrian Christmas Bakery, Hampers & Gift Boxes 
Looking for the perfect gift for Christmas? Together with our pastry chefs we have curated a wide selection of Austrian Christmas Bakery, Christmas Hampers and Christmas Boxes that are now available for nationwide delivery.
Our Christmas gift ideas include our one and only Austrian Sachertorte as well as other delightful handmade Christmas pastries like Christmas Cookies, home made Austrian Gingerbread and traditional Christmas Stollen.

We have limited stock and delivery slots available, please order as soon as possible to avoid disappointment.
A Taste of Authentic Austrian Christmas at Kipferl
 Experience the magic of an Austrian Christmas right here in the UK with Kipferl. As the chill of winter settles in, it's time to warm your hearts and homes with the authentic tastes of Austria's festive delights.
 Austrian Christmas Cookies
When it comes to Christmas cookies, Austria has a rich and delicious history. Each bite of our meticulously crafted cookies offers a journey through the snowy Alpine regions. Try our homemade Lebkuchen, our light Coconut kisses or order our classic Vanillekipferl.
 Christmas Stollen – a true classic
The scent of Stollen, a classic Austrian Christmas bread, has the power to transport you straight to a Christmas market in Vienna or the alpine region of Tyrol. Laden with fruits, nuts, and marzipan, our Stollen promises to be the highlight of your festive table.
 Kipferl Christmas Cakes
Our range of Christmas cakes embodies the spirit of Austrian baking tradition. We've added a special festive decoration to our beloved Austrian Sachertorte, our creamy Chestnut Cake, our nutty Haustorte and our delightful Mozart Torte. All of our cakes are made in our own bakery following traditional Austrian recipes and using only the finest ingredients.
 Christmas Food Hampers & Gift boxes
Looking for the perfect gift or simply a way to indulge in a variety of festive delights? Our Christmas food hampers are curated with a selection of Austria's finest festive foods, ensuring a gourmet experience from the alps. You can choose between luxury hampers filled with the best Austrian wines and delicacies or our sweet gift boxes filled exclusively with homemade sweet treats from our Austrian Patisserie in London.
 Wrap Up
Step into the world of Austrian festivities with Kipferl. For those souls in the UK, yearning for a touch of foreign magic or reminiscing about their travels to Austria, our collection ensures a Christmas that's both traditional and unique. Order now and get your delivery slot on time before Christmas.