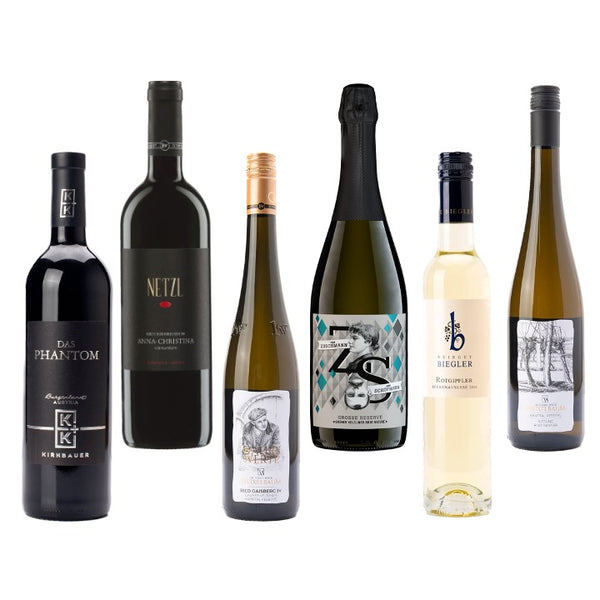 Austrian Christmas Wine Box - Deluxe
Six bottles of the finest that our Austrian wine makers have to offer. The perfect gift for the wine connoisseur and anyone else who loves the finer things in life.


Sekt Grüner Veltliner Grosse Reserve, Zuschmann-Schöfmann: Only the juice from the first press of hand selected and whole bunch pressed grapes goes into this traditional method sparkling wine. Grosse Reserve is the highest appellation for Austrian sparkling wines, aged for a minimum of 30 months on the lees. Brilliant yellow and golden, fine bubbles, ripe apple and subtle citrus fruit. Very dry (brut nature), playful and multi layered. Elegant and long finish. Our premium sparkling wine. 
Das Phantom, Kirnbauer: Das Phantom is one of Austria's most famous red wines. A cuvee of Blaufränkisch, Merlot, Cabernet Sauvigon, Cabernet Franc and Syrah with black currant, forest berry and floral notes. 18 months in small barrels give the wine a fine roast aroma, complexity and smooth finish. Delicious with roast beef. Among 2% top wines in the world according to vivino.
Anna-Christina Ried Bärnreiser: Netzl's famous Cuvee of Zweigelt, Cabernet Sauvignon and Merlot from the warm Bärnreiser hillside. Dark cherry and blackberry, cassis and white pepper. Spicy, silky tannins, complexity and length. A worthy Austrian alternative to Bordeaux blends!
Decant and enjoy with beef, game with rich gravies or blue cheeses and walnuts. Fantastic with grilled or roast lamb.
Grüner Veltliner Reserve, Ried Gaisberg, Weixelbaum: 'Erste Lage' / Premier Cru single vineyard Grüner Veltliner, powerful and mineral, hints of orange zest and peach and apricot. Complex and rich, fine acidity, off-dry, good ageing potential. Ranked among the 10 best Austrian Grüner Veltliners and Chardonnays in Austrian wine publication Vinaria 01/2023.
Weixelbaum Riesling Alte Reben: Full bodied, premium Riesling from old vineyards in and around Strasz in Kamptal. Intense and aromatic, ripe peach and apricot, residual sugar fantastically balanced by its fresh acidity. Goes well with Asian dishes, seafood and even BBQ!

Rotgipfler Beerenauslese Biegler: Austrian dessert wine made of the rare grape variety Rotgipfler, unique to the Thermenregion south of Vienna. Think of honey, mango and sultanas, refreshing acidity and pronounced fruit. Medium body and lingering finish.