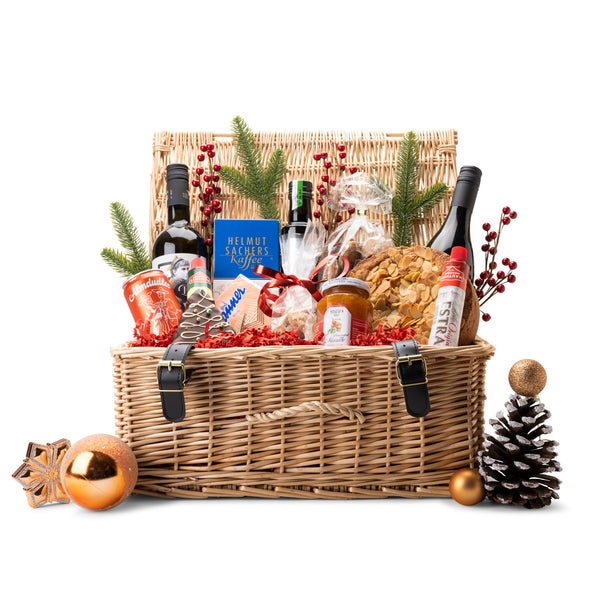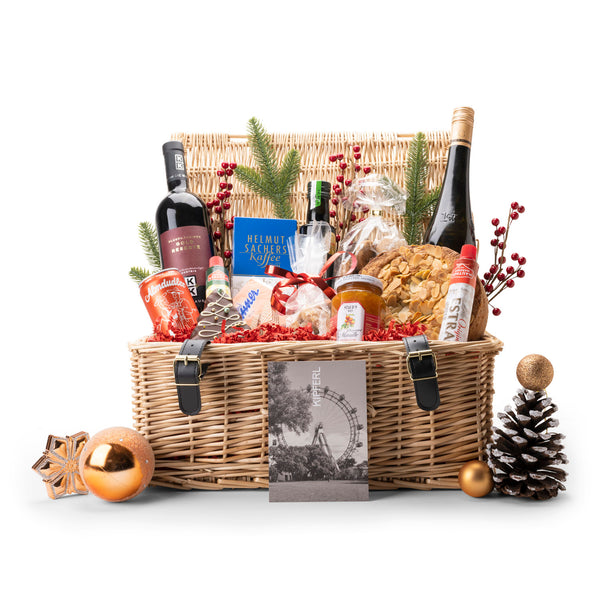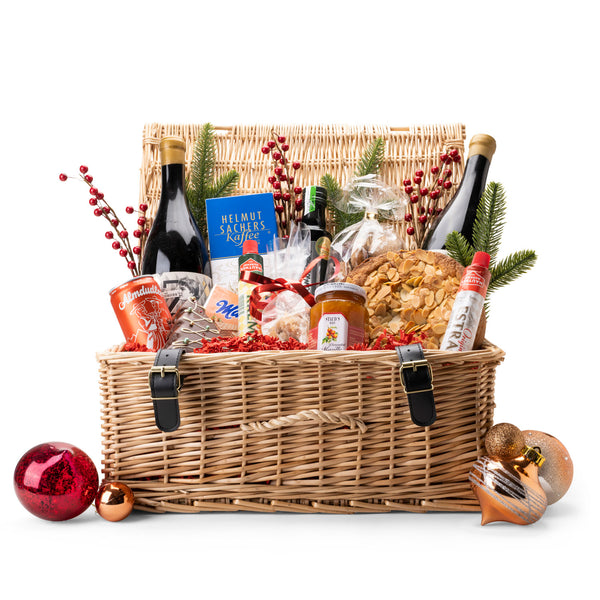 🎄Luxury Austrian Christmas Gift Hamper - 16" 🎁
🇦🇹 The Perfect Christmas Gift 🎄
Do you need a present but you don't know what to get? Our Austrian Christmas Hampers are the perfect gift for your friends and loved ones. They are carefully selected, gorgeously packaged and we make sure that they always contain the most popular products that everyone will love. Our Limited Edition Christmas Hampers are handpicked by our team, and filled with traditional Austrian Delicatessen.
Personalised Hampers: if you want a specific amount of money or specific items to go into your hamper please email us at mail@kipferl.co.uk and we will put it together for you.
Please see below for hamper content. You can add a card to your hamper after adding it to your cart.
Hamper 1
Styrian Pumpkinseed Oil 0,5L | Austrian Coffee 250g | Kipferl Christmas Cookies | Austrian Mustard 2x | Staud's Austrian Jam | Almdudler | Manner Wafers 2x | Christmas Tree Sachertorte | Kipferl Lebkuchen | 18cm Linzer Torte | Grüner Veltliner Dac 
| Zweigelt Edles Tal
S
tyrian Pumpkinseed Oil 0,5L | Austrian Coffee 250g | Kipferl Christmas Cookies | Austrian Mustard 2x | Staud's Austrian Jam | Almdudler | Manner Wafers 2x | Christmas Tree Sachertorte 
|  Kipferl Lebkuchen 
| 18cm Linzer Torte 
| Blaufränkisch Gold Reserve
| Grüner Veltliner Reserve Gaisberg
Hamper 3
S
tyrian Pumpkinseed Oil 0,5L | Austrian Coffee 250g | Kipferl Christmas Cookies | Austrian Mustard 2x | Staud's Austrian Jam | Almdudler | Manner Wafers 2x | Christmas Tree Sachertorte 
|  Kipferl Lebkuchen 
| 18cm Linzer Torte 
| Pinot Blanc Muschelkalk Selektion
| Pinot Noir Muschelkalk Selektion