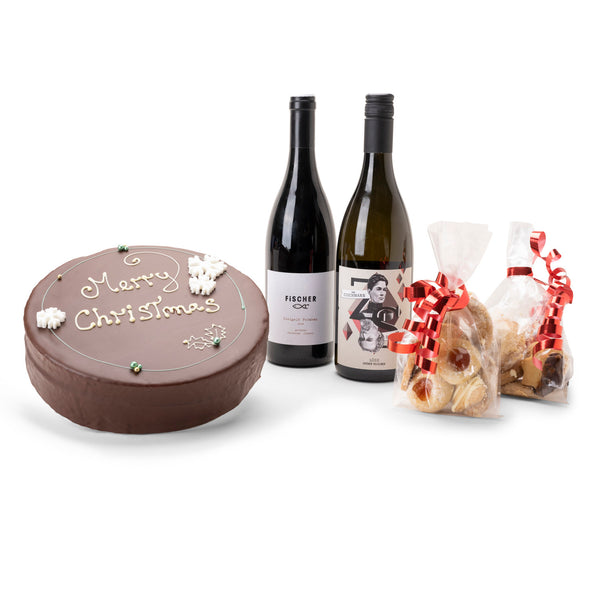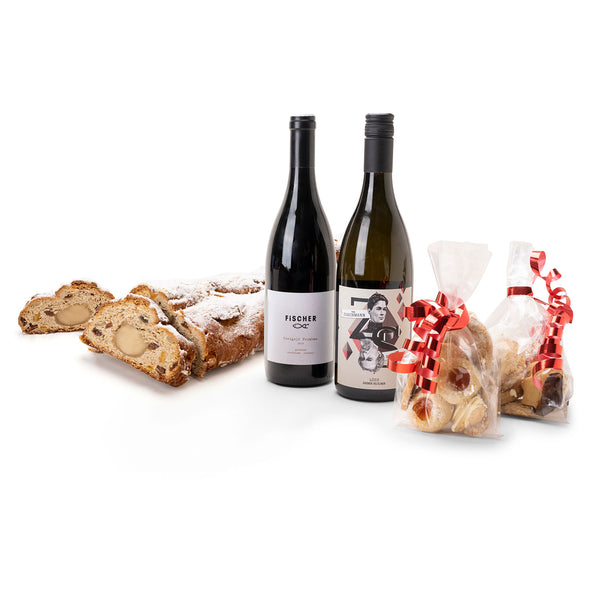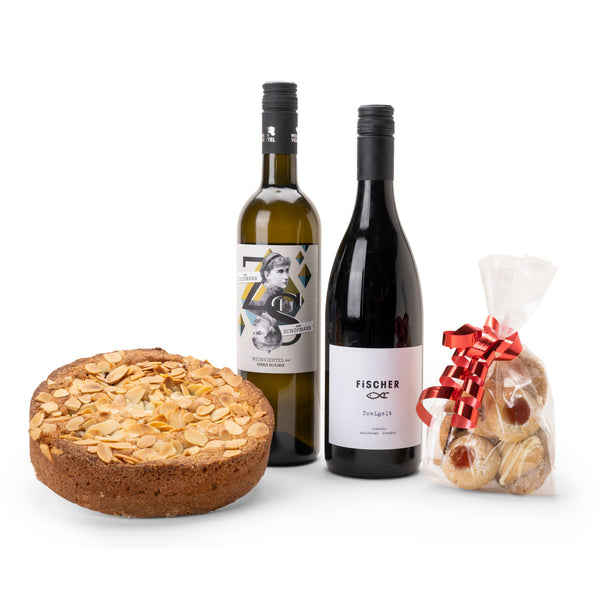 🎄Austrian Christmas Gift Box 1 🎁
Austrian Christmas Gift Box 🎄
Specially for the festive season we have created a selection of unique Austrian Gift Boxes. Filled with a mix of hand made Austrian bakery items and fine Austrian Wine.

Do you need a present, but you don't know what to get? Our Austrian Christmas Gift Box is the perfect present for your family, friends, customers and colleagues. 
🇦🇹 Sachertorte Christmas Cake 
Our regular sized Sachertorte with 2 layers of apricot jam and chocolate icing.
OR
🇦🇹 Linzertorte
From Austria's 3rd largest city Linz, a traditional almond cake with red currant jelly, spiced with cinnamon and cloves. Regular Size. 

OR
 🇦🇹 Stollen
Following an ancient recipe from Tyrol, our Stollen is packed with candied fruits, nuts and lots of marzipan. The perfect companion for an afternoon tea with the family. 


AND
🇦🇹 Kipferl Christmas Cookies 🍪 
It wouldn't be Christmas without Kipferl's homemade Austrian Christmas Cookies. Ten handmade delights (Vanillekipferl, Linzer Augen, Husaren, Ischler, Kokosbusserl) will bring true Austrian Christmas Spirit into your home.
🇦🇹 Kipferl Austrian Wine
With our Grüner Veltliner Löss from Zuschmann and Netzl's Edles Tal Cuvee this box contains two of the best Austrian Wines our little alpine paradise has to offer. 

Personalised Gifts: if you want a specific amount of money or specific items to go into your gift please email us at mail@kipferl.co.uk and we will put it together for you.

Please see below for gift content. You can add a card to your gift after adding it to your cart.

2 Bottles of Austrian Wine | 1 Christmas Cake | 2 Bags of Christmas Cookies
Allergens: gluten, dairy, eggs, nuts. For more information on allergens click here to see our allergens info page.