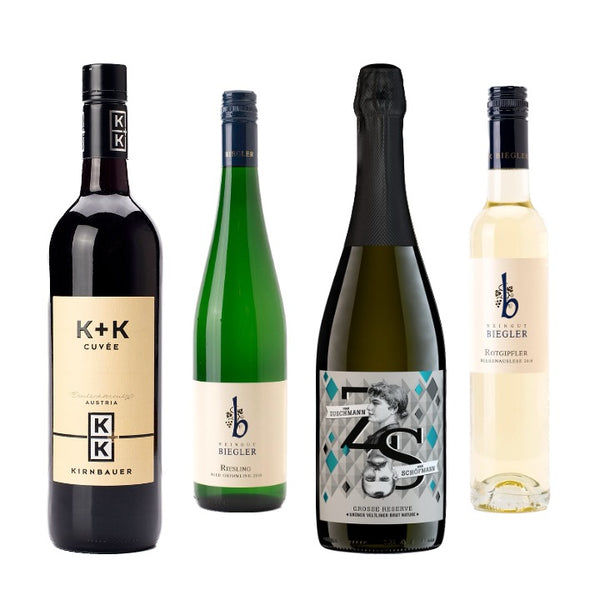 Austrian Christmas Dinner Wine Box
The complete companion for your Austrian Christmas dinner.
Austrian Red, White, Sekt and Dessert Wine. 
K+K Cuvee, Kirnbauer: Spicy cuvée of Blaufränkisch, Zweigelt, Cabernet Sauvignon, Merlot and Syrah. A warm and silky red wine, ruby red, blackberry and sour cherry aromas – simply delightful. Also called the 'Little Phantom' after its famous big brother 'Das Phantom'. Excellent value!
Riesling Grimmling, Othmar Biegler: Single vineyard Riesling by top wine maker Othmar Biegler from Gumpoldskirchen south of Vienna; citrus fruit, ripe apricot and peach, just bordering on off-dry matched by refreshing acidity, fruity, complex and long.
Sekt Grüner Veltliner Grosse Reserve, Zuschmann-Schöfmann: Only the juice from the first press of hand selected and whole bunch pressed grapes goes into this traditional method sparkling wine. Grosse Reserve is the highest appellation for Austrian sparkling wines, aged for a minimum of 30 months on the lees. Brilliant yellow and golden, fine bubbles, ripe apple and subtle citrus fruit. Very dry (brut nature), playful and multi layered. Elegant and long finish. Our premium sparkling wine. 

Rotgipfler Beerenauslese Biegler: Austrian dessert wine made of the rare grape variety Rotgipfler, unique to the Thermenregion south of Vienna. Think of honey, mango and sultanas, refreshing acidity and pronounced fruit. Medium body and lingering finish.